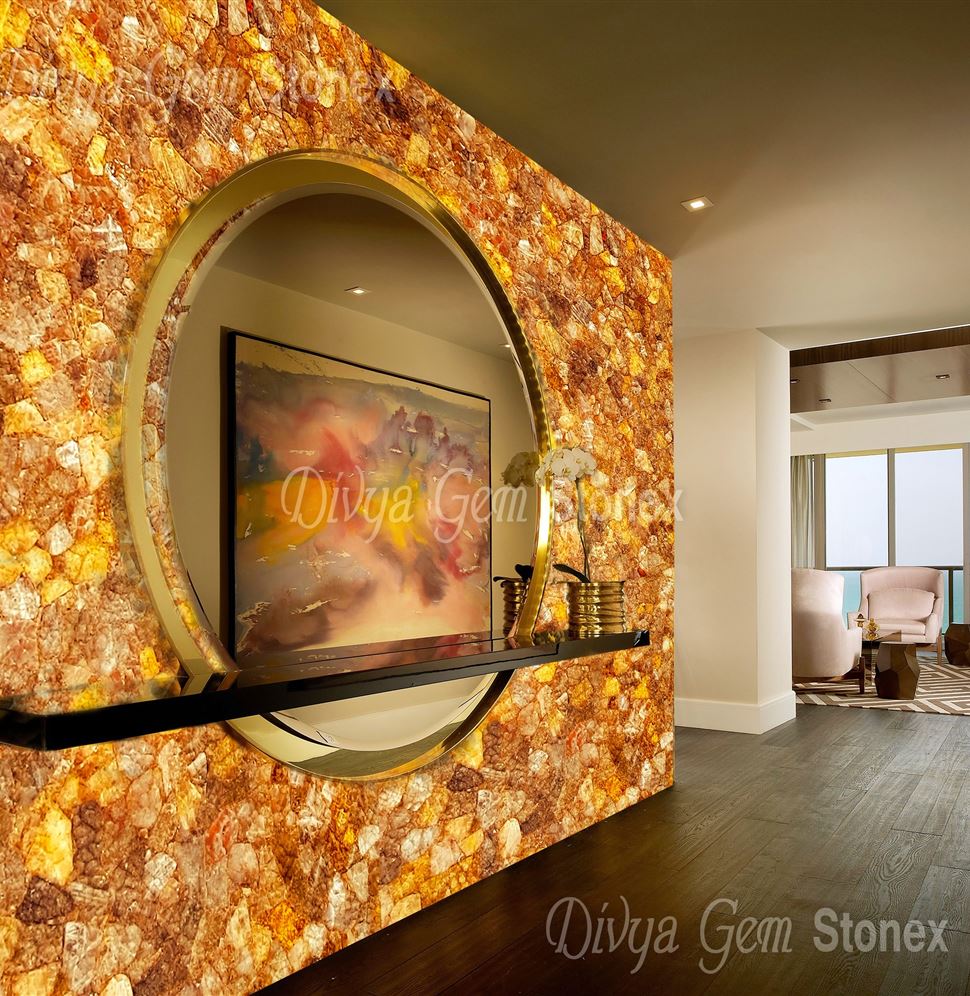 Divya Gem Stonex


Extracting the Beauty of Stones

Divya Gem Stonex is a leading Manufacturer, Supplier & Exporter of Semiprecious Stone Slabs and offers a wide range of interior design and furniture solutions. We have resource-rich sites where quarrying centers, equipped with leading-edge machinery and equipment, ensure maximum productivity and optimum earnings.

Our Semi Precious Stone Collection includes Agate, Quartz, Lapis Lazuli, Amethyst, Petrified Wood, Tiger Eye, Carnelian, Jasper, Malachite, Sodalite, Obsidian, Fluorite, Opal, Chalcedony, Ruby, Septarian, Glitter, Ammonite, Swarovski etc.

Our Product Range includes Semi Precious Stone Slabs, Semi Precious Stone Furnitures, Semi Precious Stone Designer Table Tops along with Tiles, Slabs, Counter Tops, Liners, Floorings, Wall Cladding, Designer Items (i.e. Sceneries, Staircase, Slices, Coasters, Lamp Shades, Sinks, Fire Place, Vases, Bathtub and much more).

{"slidestoshow":3,"slidestoscroll":1,"dots":"true","arrows":"true","autoplay":"true","autoplay_interval":3000,"speed":300}
>Gemstone Semi Precious Stone Slabs Tiles
Gemstone is piece of crystal which is cut and polished for making jewelry and other decorative products. We manufacture high quality of Exotic range of Gemstone Slabs according to the requirement of our valued customers. We have wide selection of beautifully crafted Gemstone table, countertop, and backlit and so on. Our decorative range of gemstone products are used to enhance the beauty of interior in office, home, hotel, cruise etc. We are offering Gemstone Slabs of high grade quality. We offer our products for residential and commercial projects both. We mainly focus on quality and durability of products which makes it one of the top choices for builder. We have Jasper slab, Tiger Eye Gold Slab, Agate Slab, Agate Crystal Slab, Black & White Petrified Wood Slab and many more. Our Gemstone products are more long lasting and compatible. We have various shapes of tiles like Square, Rectangular and any customize shape. Semi Precious Stone is one of the most luxurious stone used to decorate interior of buildings. These Stone is very easy to install and clean. We have Amethyst slabs, Wild Crystal Quartz Slabs, Rose Quartz Slabs, Wild Agate Slabs and many more. These all slabs are available in market leading prices. Our Semi precious stone are so beautiful, eye-catching and attractive that you can't ignore your eyes from them. Semi Precious Stone Slabs and Tiles are made from natural stones. We provide Blue Agate Slab and Tiles, Lapis Lazuli Stone Slab, Agate Semi Precious Stone Slab, Rose Quartz Stone Slab, Malachite and Amethyst Stone Slab, Agate and Quartz Slabs, Tiger Eye Stone Slab and many more.
Gemstone Semi Precious Stone Slabs Tiles
>Gemstone Semi Precious Stone Slabs Tiles
>Gemstone Semi Precious Stone Slabs Tiles
>Gemstone Semi Precious Stone Slabs Tiles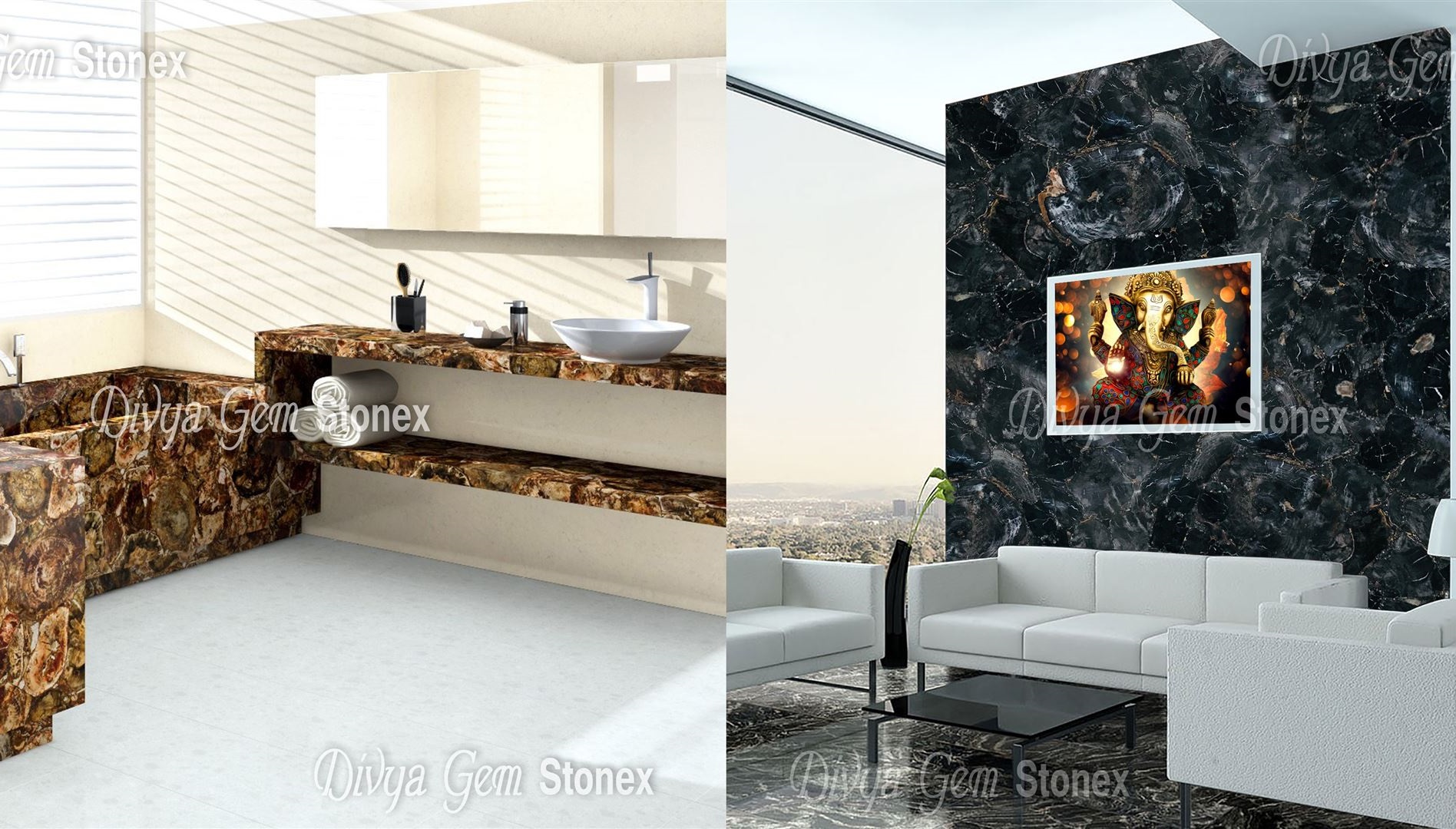 We import Gemstone Slabs to Canada from Divya Gem Stonex. The variety of SemiPrecious Stone available is great. The Slabs as well as the Furniture Products both are executed well and the beauty of stone is crafted with great care by the expert artisans of Divya Gem Stonex.

Our Company is based in Italy and we always look for Precious and rare gemstones collections all over the World. We have been dealing with Divya Gem Stonex from last many Years and we are completely satisfied with the product quality and their value for time. The deliverables are always on time and with no compromise in Product Quality. Great Work done by Divya Gem Stonex.

I am Interior Designer by profession and I have completed many projects in collaboration with Divya Gem Stonex and have created stunning interiors for many US based projects of Showrooms and Hotels. Semi Precious Stone gives an attractive look to the floors, walls and countertops as it's a luxurious stone.

Divya Gem Stonex has varieties of Gem Stones that have vast applications to create luxury apartments and other residential and commercial projects. The Quality of Gemstones is amazing and creates a charismatic look to the interiors of the Apartment.

As an Architect, I always prefer the best Stone that should be used to give a delightful look to the residential and commercial projects. Gem Stones have special attributes that leaves behind the Natural Stones and now they are widely used for flooring and wall cladding to give splendor and magnificent look to the interiors.

On time Delivery is the specialty of Divya Gem Stonex. The products are of high quality and as expected the Product Finishing is Smooth and Classy. The stones you provide are just what I always demand. The better part is your commitment and on-time delivery that is even more appreciated.

Thank you so much Divya Gem Stonex for matching all our demands and that too without compromising quality. The Gemstone Slabs are really designed well with smooth finishing and polishing.

Divya Gem Stonex have been invaluable in its fabrication. Exciting Specification of Products and a wide array of Gemstones and Semi Precious Stones make them more valuable. Fantastic Team having great knowledge about the Gemstones. Had wonderful experience working with them.

Fantastic experience to choose Divya Gem Stonex and to be a part of the designing process. Great team, friendly and knowledgeable staff in selection of quality gem stones. The Company have an impressive array of Gemstone Slabs. Finished products are absolutely stunning.